117. John6 Johnston (John7, John8) was born in Norway about 1836. In the 1871 Scottish Census, John was listed as a Seaman, born in Norway, and was living in Glasgow at 26 Brown Street. According to family legend, John died 16 November 1879 in New York Harbor, New York, NY, after being pushed into the hold of his ship by a crew member. Death records indicate that he died 9 Nov 1879 in Brooklyn Hospital after "falling into the ships hold" on board the State Of Indiana.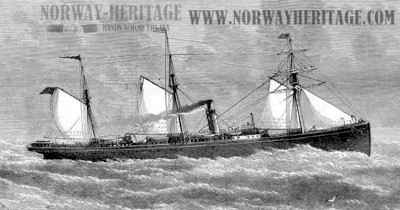 .
More Information about the State of Indiana courtesy of NorwayHeritage.com.
He married Margaret Calton 24 July 1866 in Blythswood, Glasgow, Lanark, Scotland. Margaret was born 14 March 1844 in London, Middlesex, England. Margaret was the daughter of Robert Calton and Mary MacKenzie. In the 1881 Scottish Census she was employed as a Dressmaker. Margaret married, second, James McInnes 16 October 1883 in Glasgow. Margaret died 7 Aug 1921 of a stroke.
John Johnson and Margaret Calton had the following children:
50 i. Marion Helga Johnson was born 20 August 1870 in Glasgow, Lanark, Scotland. She married William Wilson in Blythswood, Glasgow on 1 May 1916 when she was 45 years of age. At that time her occupation was given as "Boot Machinist" and his "Shoemaker". He was the son of Edward Wison and Ann Paterson. She died 17 Jan 1948 in Glasgow at 77 years of age of congestive heart failure.
+ 51 ii. Marguritha Lillian Maria5 Johnson was born 5 May 1873.
52 iii. Clara Ann Johnson was born about 1879 in Glasgow, Lanark, Scotland. Clara married William Graham 2 April 1909 at 17 Monteith Row, Glasgow, Scotland. William was the son of William Graham (Occupation: Forester, deceased) and Ann McFarlane. William was employed as a Tram Car Operator at the time of his marriage and was 35 years old. Clara died 12 Dec 1937 in Springburn, Glasgow of liver cancer. Her son John Graham, witness.
Send email to preparer: vtandrew@mac.com

Return to Table of Contents or Index
Go to Next Page
Go to Previous Page